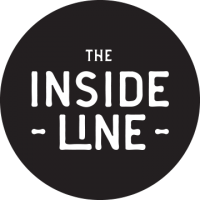 Tauntaun

Bred for winter in the Rockies — The all-new Tauntaun V2 is the fat bike for mountain bikers
Modern
Angles
Size Specific
Geometry
Narrow
Q Factor
3D Printed
Yokes
Universal
Derailleur Hanger
Choose Your Build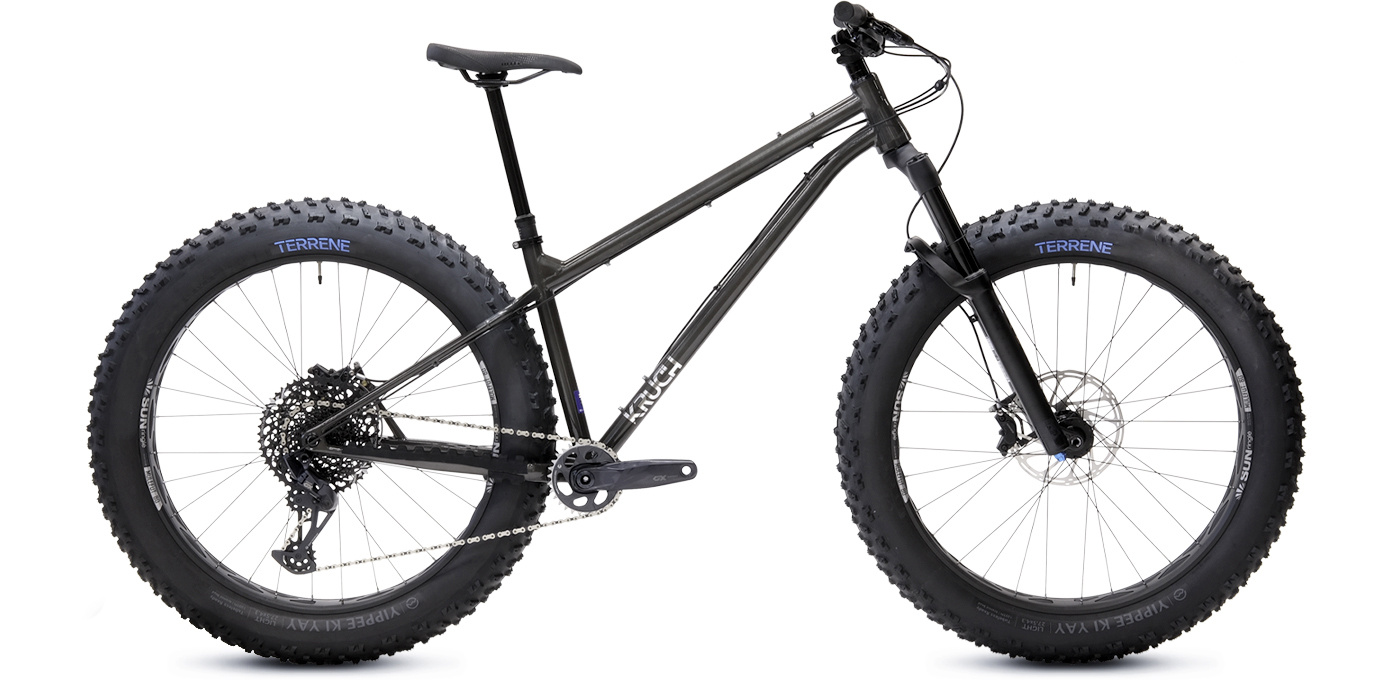 | | | |
| --- | --- | --- |
|   | Comp — $5,200 | ⭑ Pro — $7,000 |
| Frame | Tauntaun Steel | Tauntaun Steel |
| Suspension | Suspension | Suspension |
| Fork | Mastodon Comp 120mm | Mastodon Pro 120mm ⭑ |
| Shock | - | - |
| Brakes | Brakes | Brakes |
| Brakes | Sram Code R | Sram Code RSC ⭑ |
| Brake Rotors | Sram Centerline 6B 200mm/180mm | Sram HS2 6B 200mm/180mm ⭑ |
| Drivetrain | Drivetrain | Drivetrain |
| Derailleur | Sram GX 12s | Sram GX 12s |
| Shifter | Sram GX 12s | Sram GX 12s |
| Cranks | Sram GX 30T (XS-M: 165mm, L-XL: 170mm) | Sram GX 30T (XS-M: 165mm, L-XL: 170mm) |
| Cassette | Sram GX 12s 50T | Sram GX 12s 50T |
| Bottom Bracket | SRAM DUB British 100mm External Cup BB 28.99mm | SRAM DUB British 100mm External Cup BB 28.99mm |
| Chain | Sram GX 12s | Sram GX 12s |
| Tensioner / Guide | - | - |
| Controls | Controls | Controls |
| Handle Bar | OneUp Alloy 35mm 35mm | OneUp Carbon 35mm 35mm ⭑ |
| Stem | OneUp 35mm 42mm Length | OneUp 35mm 42mm Length |
| Grips | OneUp Slim Black | OneUp Slim Black |
| Headset | Cane Creek 40 ZS44/ZS56 | Cane Creek 40 ZS44/ZS56 |
| Saddle | WTB Koda Steel M | WTB Koda Chromoly ⭑ |
| Dropper Post | OneUp V2 (XS: 150mm, S: 180mm, M-L: 210mm, XL-XXL: 240mm) | OneUp V2 (XS: 150mm, S: 180mm, M-L: 210mm, XL-XXL: 240mm) |
| Dropper Lever | OneUp V3 | OneUp V3 |
| Wheels | Wheels | Wheels |
| Front Wheel | SunRingle Mulefut 80 27.5" 15x110mm | SunRingle Mulefut 80 27.5" 15x110mm |
| Rear Wheel | SunRingle Mulefut 80 27.5" 12x197mm | SunRingle Mulefut 80 27.5" DT 350 Hub 12x197mm ⭑ |
| Tires Front/Rear | Terrene Yippee Ki Yay 27.5x4.3" Studdable | 45NRTH Wrathchild 27.5x4.5" 120tpi 252XL Studs ⭑ |
 
XS
S
M
L
XL
XXL
A
Reach
420mm
440mm
460mm
480mm
500mm
520mm
B
Stack
639mm
639mm
648mm
657mm
666mm
666mm
C
Head Tube Length
110mm
110mm
120mm
130mm
140mm
140mm
D
Head Tube Angle
64°
64°
64°
64°
64°
64°
E
Front Center
756mm
776mm
801mm
825mm
850mm
869mm
F
Wheel Base
1196mm
1216mm
1241mm
1275mm
1300mm
1319mm
G
Rear Center
440mm
440mm
440mm
450mm
450mm
450mm
H
Bottom Bracket Drop
66mm
66mm
66mm
66mm
66mm
66mm
I
Bottom Bracket Height
324mm
324mm
324mm
324mm
324mm
324mm
J
Seat Tube Angle
76°
76°
76°
76°
76°
76°
K
Seat Tube Length
362mm
382mm
400mm
422mm
432mm
442mm
L
Bike Standover
720mm
720mm
724mm
738mm
737mm
731mm
M
Effective Top Tube Length
573mm
594mm
616mm
639mm
661mm
681mm
N
Offset
51mm
51mm
51mm
51mm
51mm
51mm
O
Axle To Crown
551mm
551mm
551mm
551mm
551mm
551mm
P
Suggested Height
5'0" - 5'4"
5'4" - 5'7"
5'7" - 5'10"
5'10" - 6'1"
6'1" - 6'4"
6'4" +
| | |
| --- | --- |
| Frame Material | 4130 Chromoly Steel |
| Wheels Size | 27.5" |
| Fork Size | 120mm |
| Seatpost Diameter | 31.6 |
| Headset Size | ZS44 Upper / ZS56 Lower |
| Bottom Bracket | Threaded 100mm BSA |
| Rotors Front / Rear | 200mm/180mm |
| Rear Wheel Spacing | 197mm |
| Crank Chainline | 66.5mm |
| Rear Brake Mount | 180mm Post Mount |
| Derailleur Hanger | SRAM UDH |
Tauntaun Recipe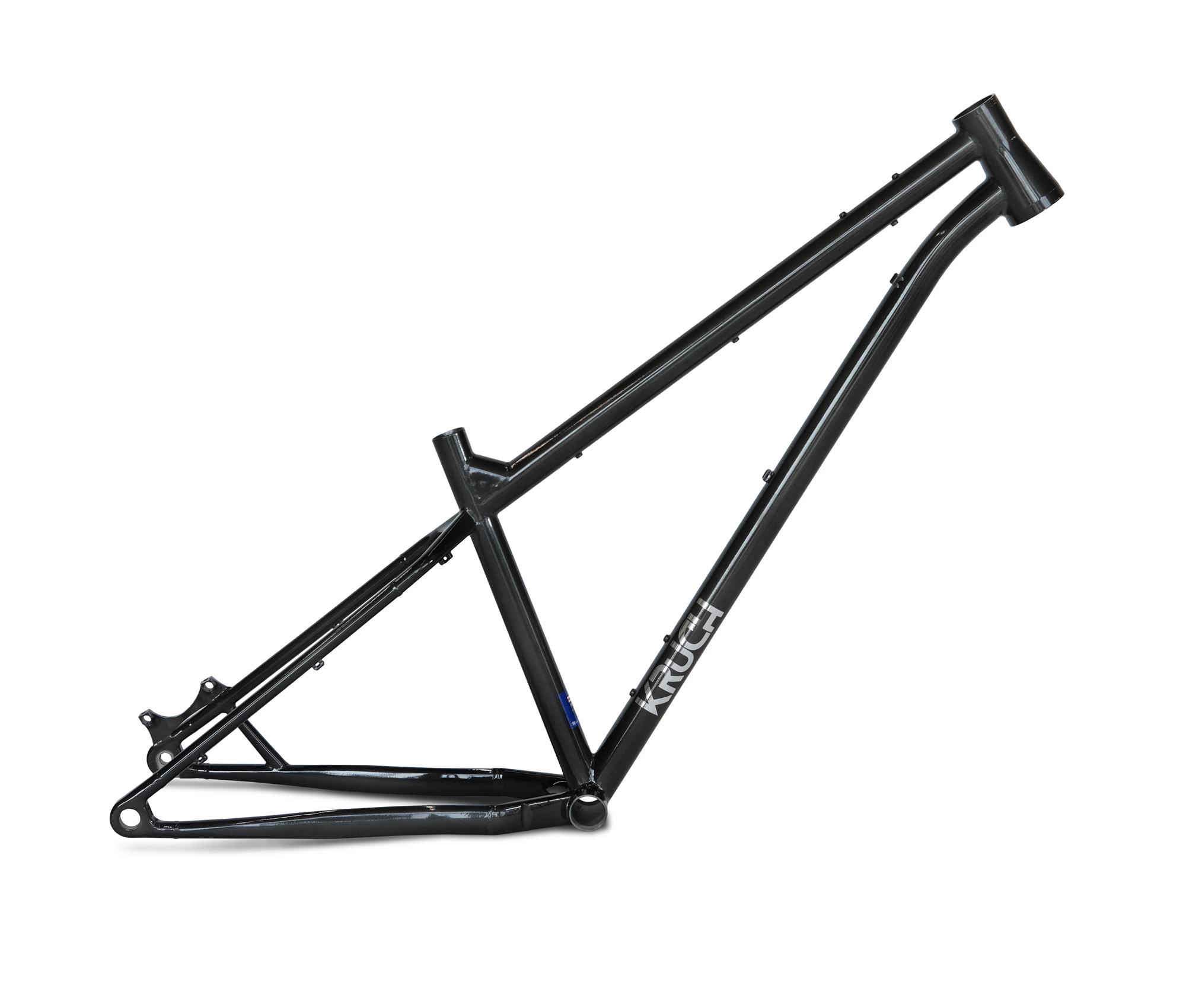 The Geometry 
We designed the new Tauntaun with modernized geometry that is size specific, allowing riders of every shape to fat bike.
A slack head tube angle, longer reach, and short seat tube makes riders feel their most confident on the descent. 
With a steep forward offset seat tube, and shorter chainstays, maximum rear wheel traction is achieved on those nasty climbs.
The Build Kits 
Built for a purpose, each part chosen by the hands of avid fat bikers.
The Tauntaun is paired with four piston Sram DOT fluid brakes for a consistent brake feel, even in freezing temps.
The Tauntaun comes with one of the top performing winter forks, the Manitou Mastodon. It is cold weather rated so that you can maximize all 120mm of travel. 
With a slimmed out rear end and more room for Sram's GX drivetrain, a narrower Q factor that facilitates a more ergonomic pedaling motion has been achieved.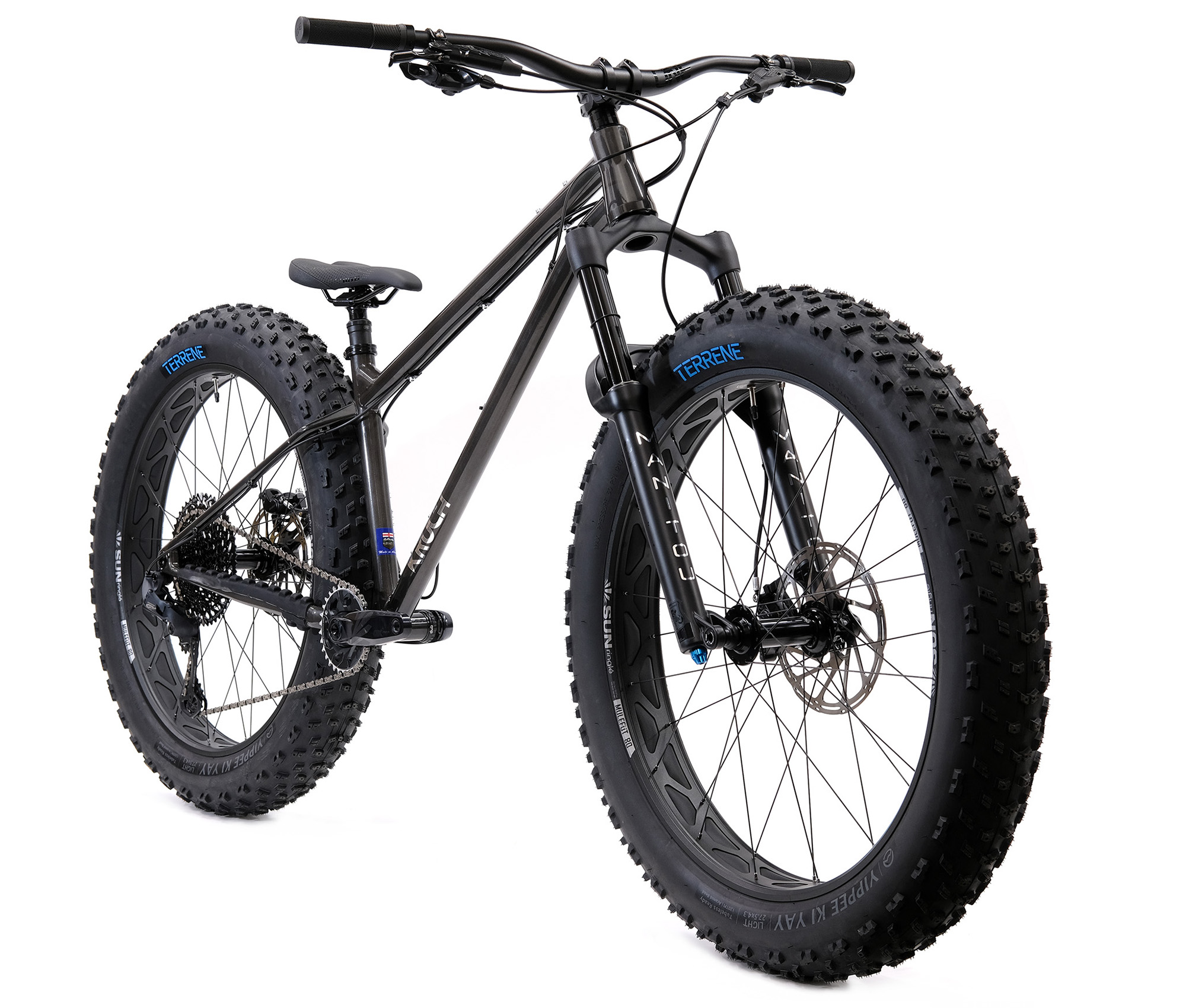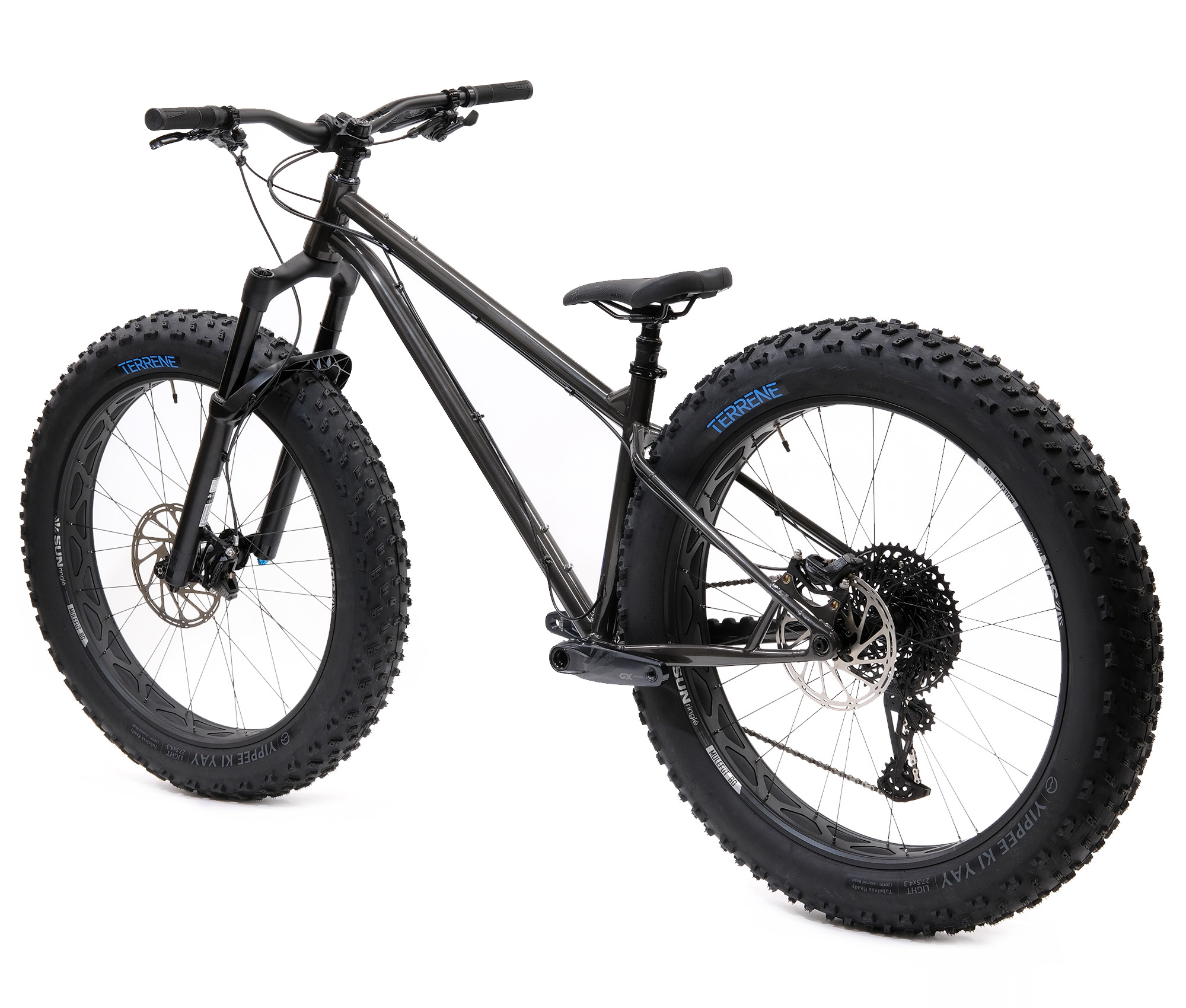 The Build Ingredients
Notorious for its strength while retaining compliance, the Tauntaun is constructed from high grade 4130 chromoly steel tubes which are laser cut and fused by local red seal welders. 
To get the exact geometry we desired, we applied additive manufacturing techniques to our seat and chainstay yokes. These 3D printing methods allowed us to reduce weight, retain strength, and increase tire clearance.
Your cart — 0
You cart is currently empty